There have been a number of flypasts over the Derwent Dams by the Battle of Britain Memorial Flight over the years, but somehow I never managed to get round to going to one of them.
That was put to rights in May 2013.
We knew parking close to the Dams was going to be an issue, so decided to park a little further out and walk in. We actually ended up parking even further away than we first thought!
Our first option, Cutthroat Bridge layby, denied to us we ended up near the end of the Strines Road, in a gateway on Sugworth Road.
Crossing the Strines, we walked down past Moscar House and then up past the grouse butts above Highshaw Clough and onto the Derwent Moors, where we picked up the main path that follows Derwent Edge.
We followed this north until we met the ancient Foulstone Road coming in from our right at Broadfield Gate Head, where we turned left and skirting round Far Deep Clough went past Green Sitches to Shake Holes.
We had intended to go straight down to the reservoir side at Walker's Clough, but when we saw everyone else (almost) heading south towards Hollinclough plantation we chose to follow.
Inspired decision as this placed us directly in line with the wall of Derwent Dam, with a great view both up and down the valley bottom.
The fly-past was great, with multiple passes by the WW2 Lancaster & Spitfire, and a brace of modern Tornadoes.
Knowing the the route back up to Broadfield Gate Head was going to be congested, we opted instead to return to the car by skirting around the hill. Thought was that, although longer, it would be flatter and quicker.
It didn't take us long to get off the hill and down onto the water side access lane, close to where Derwent Village used to be, and then down the lane towards the main Snake Pass road at Ashopton, where we picked up an old bridleway that contoured us above the road and up above the Ladybower Brook valley and onto the path that took us back to Moscar House and thence onward to where we had parked.
Date Walked: 16May13
Distance: 11.5 miles
Time: 4h03m (walking time only)
Ascent: 1913'
Descent: 1931'
Hover over photo for description, if available, or click for full size version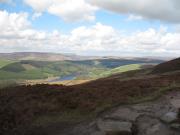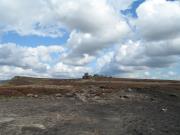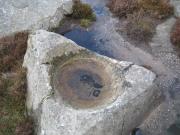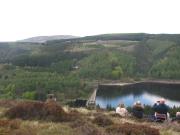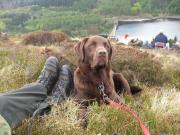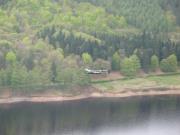 Points to note
These walks are listed as a record of walks that we have done. If you wish to follow them then you do so at your own risk.
Distances given are those recorded on our GPS as Track Distance.
Actual distance walked may be slightly longer, due to the way that the two distances are calculated. This article explains why.
Times given may or may not include breaks.
You'd expect on a circular walk that the Ascent and Descent values would be the same, right?
Well, yes, but sometimes I didn't stop the track at the exact same place I started it, and also sometimes it takes a while to get a strong enough 3D fix for a reasonably accurate altitude setting.
Any photos shown will be of the ground covered by the walk, but may cover more than one visit.