Park in the National Trust car park at the top of Winnat's Pass, near the eastern end of Rushup Edge.
Follow the path going out the top of the carpark, cross the road and head up to the top of Mam Tor, Shivering Mountain, so called due to it's habit of having land slides.
From there you have great views along the Hope Valley to your right, and Edale on your left, with Jacob's Ladder at the top of Edale being a prime route at the start of the Pennine Way. This is a very steep climb up onto Kinder Scout, and beyond.
Continue past the summit of Mam Tor and onto the ridge that sits between the two valleys, with Lose Hill at the far end.
Proceed to Hollins Cross, a pass between the valleys and a meeting place for multiple paths.
Turn hard right and valley the footpath down and across the hill towards the base of Mam Tor.
Follow the signs to skirt around the farm buildings coming out eventually onto their access lane, which you follow up to the old A625 Sheffield to Chapen-en-le-Frith road.
This road closed in 1979 when the section across Little Mam Tor closed following yet another land slip.
However, it closed to vehicles, not people, so follow the road up hill past the collapsed section and then the entrance to the Blue John cavern.
A little further up along the road turn right into the field and go uphill to the road above the carpark you crossed earlier on the way to the Mam Tor summit.
Date Walked: 15Feb13
Distance: 2.7 miles
Time: 1h27m
Ascent: 898'
Descent: 893'
Hover over photo for description, if available, or click for full size version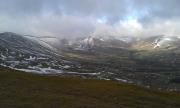 Points to note
These walks are listed as a record of walks that we have done. If you wish to follow them then you do so at your own risk.
Distances given are those recorded on our GPS as Track Distance.
Actual distance walked may be slightly longer, due to the way that the two distances are calculated. This article explains why.
Times given may or may not include breaks.
You'd expect on a circular walk that the Ascent and Descent values would be the same, right?
Well, yes, but sometimes I didn't stop the track at the exact same place I started it, and also sometimes it takes a while to get a strong enough 3D fix for a reasonably accurate altitude setting.
Any photos shown will be of the ground covered by the walk, but may cover more than one visit.