After many years of visiting Snowdonia, we finally made it up the mountain.
Not going to describe the route, as there are many on-line resources that would do a much better job than I.
However, the three of us (Mark, Miriam & Steven) all climbed the mountain on the Rhyd Ddu path, and descended on the Snowdon Ranger, until picking up a footpath across the lower slopes of the hill through an old abandoned slate mine to return to the car park.
We had hoped to reach the summit in clear air, and indeed as we climbed the cloud base was lifting above us, but sadly the summit never cleared.
Date Walked: 30Jul13
Distance: 9.7 miles
Time: 6hr56m
Ascent: 3264'
Descent: 3346'
Hover over photo for description, if available, or click for full size version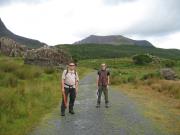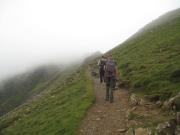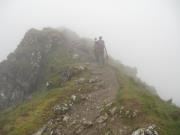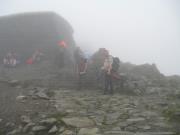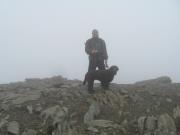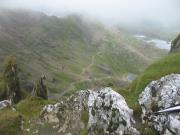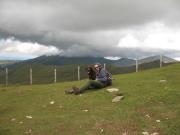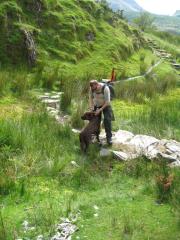 Points to note
These walks are listed as a record of walks that we have done. If you wish to follow them then you do so at your own risk.
Distances given are those recorded on our GPS as Track Distance.
Actual distance walked may be slightly longer, due to the way that the two distances are calculated. This article explains why.
Times given may or may not include breaks.
You'd expect on a circular walk that the Ascent and Descent values would be the same, right?
Well, yes, but sometimes I didn't stop the track at the exact same place I started it, and also sometimes it takes a while to get a strong enough 3D fix for a reasonably accurate altitude setting.
Any photos shown will be of the ground covered by the walk, but may cover more than one visit.