We parked in the P&D car park of the old railway station in Miller's Dale.
This is, or was, on the Midland Line that used to connect Manchester to London, but was closed in the 1960s, and now forms the basis of the Monsal Trail. Some interesting information on Wikipedia about why it follows the difficult route through the Wye Valley, rather than an easier way. Linky
We walked past the old station building, got onto the rail bed and crossed the valley on one of the twin rail viaducts before dropping down to the valley floor, crossing the river on a footbridge and then climbing back up to end up just a few hundred metres from the car park where we started on the side of Monk's Dale. It would have been simpler to have walked up the road to get there!
Oh well, lesson learnt - don't let a woman navigate!
Anyway, we dropped down the valley side and followed Monk's Dale north. This Dale soon became heavily wooded, and it was quite difficult to walk along the rocky path, as it was very damp and slippery in the gloomy valley bottom. The path did give the odd open aspect, but when we finally emerged into sunlight at the northern end it felt like we'd emerged from a long narrow cave or tunnel.
Monk's Dale is one of five dales in the Peak District that forms the Derbyshire Dales National Nature Reserve, and is a site of special scientific interest (SSSI).
Not all doom and gloom in there, as we did come across a young badger just a couple of metres from the path, that didn't seem too bothered about us being there at all, despite Harvey getting all excited.
Instead of crossing the road at the top of the Dale and continuing up into Peter Dale and beyond, we turned and climbed Wormhill to the south west, following a narrow walled bridleway across farm land - the typical patchwork of small dry stone walled grass fields that are so typical of the White Peak.
This bridleway is part of the Pennine Bridleway - a long distance path for horsey types, although there was little evidence that it is used by horses very much.
Passing through Old Hall Farm we continued on the bridleway to the edge of Old Moor Quarry, a large opencast works.
The original rights of way across Old Moor have been diverted, for obvious reasons, onto the tarmac lane that heads south. Bit of a slog this section, on the road, although we could have followed a footpath through the fields alongside the road at least part of the way, but opted not to as they were full of cattle or sheep.
After passing through Mosley Farm we descended a steep zig zag path to rejoin the old railway, and a junction of three dales - Chee, Great Rocks and Wye Dales.
We detoured slightly here, passing underneath the railway to the River Wye to allow the dog to have a paddle and a drink, and to slurp on some Bovril ourselves.
Back up on the rail bed we headed east though tunnels and over high bridges back towards the car park at Miller's Dale. Must have been a pig to have built the railway through here. The tunnels have only recently been re-opened, in 2011, after being closed for many years and it does make for a quicker passage than having to meander around on all the diversion paths and trails, as well as an opportunity to see some great industrial heritage.
One tunnel is so long, as well as not being straight, to require lights - bet it's not nice in there when they go off at dusk, especially as we noted many bat boxes high on the walls!
Date Walked: 07Oct13
Distance: 7.7 miles track (8.17 miles actual)
Time: 3h33m
Ascent: 997'
Descent: 1002'
Hover over photo for description, if available, or click for full size version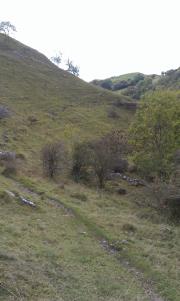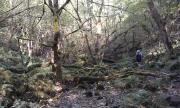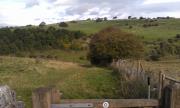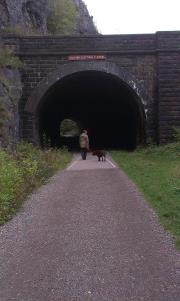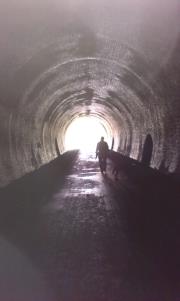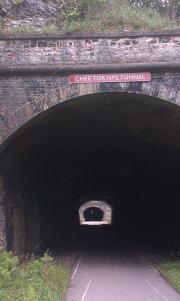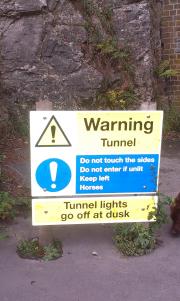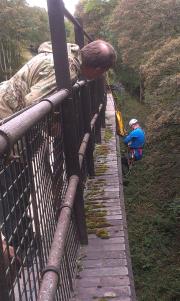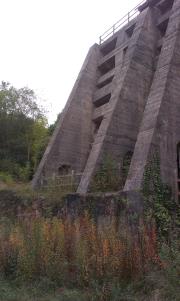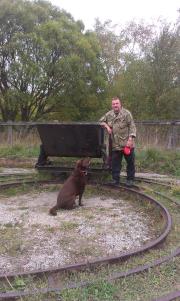 Points to note
These walks are listed as a record of walks that we have done. If you wish to follow them then you do so at your own risk.
Distances given are those recorded on our GPS as Track Distance.
Actual distance walked may be slightly longer, due to the way that the two distances are calculated. This article explains why.
Times given may or may not include breaks.
You'd expect on a circular walk that the Ascent and Descent values would be the same, right?
Well, yes, but sometimes I didn't stop the track at the exact same place I started it, and also sometimes it takes a while to get a strong enough 3D fix for a reasonably accurate altitude setting.
Any photos shown will be of the ground covered by the walk, but may cover more than one visit.