A circular walk taking in Tideswell Dale, Miller's Dale, Cressbrook Dale and Litton Dale.
A misty, murky autumnal day, we parked up at the public P&D car park just south of Tideswell.
As the rain fell on our umbrellas we walked down the dale following the footpath before coming out onto the minor road into the small hamlet of Litton Mill.
We walked past the old Mill, now converted into housing, on a concessionary path into Miller's Dale.
We then made the mistake of disregarding the sign by a very steep set of steps cut into the rock advising of an alternate route to Cressbrook in the event of flooding.
The puddles on the path just got larger and deeper, before eventually forming part of the River Wye! We managed to portage one section, before getting to a 20m stretch with no way round, so it was picky back time and I carried Miriam through, as my boots allow me to go through much deeper water than hers.
Entering Cressbrook we followed the Litton road uphill until we could pick up the very muddy footpath that allowed us to climb up and out the western side of Cressbrook Dale into the fields on the hill top.
After crossing the fields we dropped into Litton Dale before looping back to the car park.
Date Walked: 11Nov13
Distance: 5.3 miles
Time: 2h28m
Ascent: 690'
Descent: 660'
Hover over photo for description, if available, or click for full size version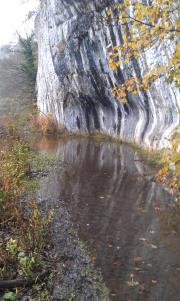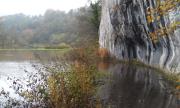 Points to note
These walks are listed as a record of walks that we have done. If you wish to follow them then you do so at your own risk.
Distances given are those recorded on our GPS as Track Distance.
Actual distance walked may be slightly longer, due to the way that the two distances are calculated. This article explains why.
Times given may or may not include breaks.
You'd expect on a circular walk that the Ascent and Descent values would be the same, right?
Well, yes, but sometimes I didn't stop the track at the exact same place I started it, and also sometimes it takes a while to get a strong enough 3D fix for a reasonably accurate altitude setting.
Any photos shown will be of the ground covered by the walk, but may cover more than one visit.