We parked in the climber's car park at the side of the road below Hookcar Sitch.
We walked across the boggy ground on the slabbed path and climbed on to Stanage Edge, and turned left and followed the Edge for a little while.
Before we got to Long Causeway, an old byway (sadly now TRO'd), we dropped down off the edge and skirted the car park below Stanage Plantation, and after a quick comfort break in the 'facilities' we entered the wet lane and went west across the North Lees estate, through the small hamlet at Green's House and then over the road at Outlane.
Turning south we picked up Hurstclough Lane, but to avoid walking along the roadway/byway we followed the footpath that runs alongside in the field edge.
We then turned east towards Nether Hurst along a very wet & muddy bridleway.
Passing Nether Hurst we headed up hill across the fields, noting the signs for Hope Valley Ice Cream, which is made at Thorpe Farm, before a short road section and then dropping down the hill behind Birley Farm.
This hill side was very slippery as we passed through Cliff Wood and over the long, long entrance driveway to Brookfield Manor, now a training centre of some kind.
We crossed Hood Brook and passed through allotments onto Baulk Lane before climbing up Bank Top to visit the church there.
This church is famed for having Little John's Grave in it's grounds (of Robin Hood fame).
Leaving the church yard we picked up the footpath that took us along the lane to Carr Farm, before turning off and heading ever upwards past Toothill Farm, and eventually onto the B road that took us back to where we had left the car.
Date Walked: 10Feb14
Distance: 6 miles
Time: 3h10m
Ascent: 1429'
Descent: 1932'
Hover over photo for description, if available, or click for full size version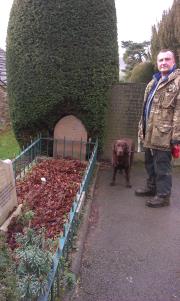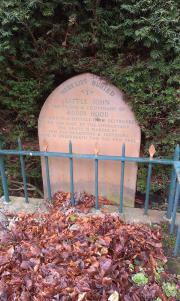 Points to note
These walks are listed as a record of walks that we have done. If you wish to follow them then you do so at your own risk.
Distances given are those recorded on our GPS as Track Distance.
Actual distance walked may be slightly longer, due to the way that the two distances are calculated. This article explains why.
Times given may or may not include breaks.
You'd expect on a circular walk that the Ascent and Descent values would be the same, right?
Well, yes, but sometimes I didn't stop the track at the exact same place I started it, and also sometimes it takes a while to get a strong enough 3D fix for a reasonably accurate altitude setting.
Any photos shown will be of the ground covered by the walk, but may cover more than one visit.