A beautiful Spring day walk from Hope, to the summit of Lose Hill, and along Mam Tor Ridge for a while before returning via Castleton.
We parked in the public P&D car park in the centre of Hope village.
We walked out of the village heading north along a footpath starting opposite the Woodroffe Arms, cutting through the estate and some small paddocks.
Once clear of the village itself, the path turned North Westerly, and we steadily climbed the hill through very soggy fields, until we came to Crimea Farm (called Losehill Farm on some maps).
Here, there was a very obvious path continuing up the hill, but as it is not marked on our maps as a public right of way, plus we had the dog with us and could see sheep up there, we turned right instead for a short while, and enjoyed some walking on level ground for a change!
After only a couple of hundred metres we turned sharp left and started climbing again up a steep spur.
Off to our right was the eastern entrance to Edale, with Whin Hill looming on the other side.
The last few hundred metres of the ascent were paved, but also very steep.
At the top the good weather allowed excellent views all round, although it was a bit misty across Hope Valley.
A quick mug of Bovril, and then it was off along the ridge heading westerly towards Mam Tor.
We followed the ridge path until just after the steep descent off Back Tor, and headed south back down the valley side towards Only Grange Farm along a permissive bridleway for most of the way, before picking up the footpath again and following parallel to the farm's driveway along a stream bank until we left that, crossed some fields and picked up Hollowford Road, a small lane that took us into Castleton.
We turned left and headed east along the main road, the A6187 for a short while.
Just as we left the town, we crossed over and entered a small lane that took us alongside the small river along the valley and back to Hope, past a church with a most unusual steeple.

Date Walked: 03Mar14
Distance: 5.9 miles
Time: 3h07m
Ascent: 1244'
Descent: 1244'
Hover over photo for description, if available, or click for full size version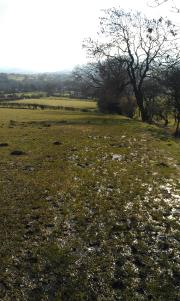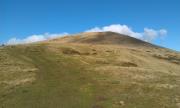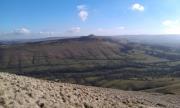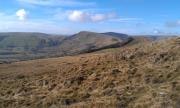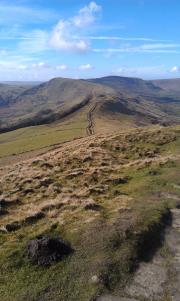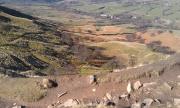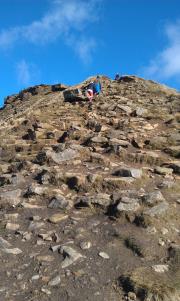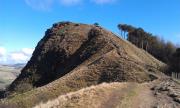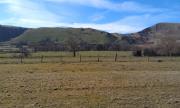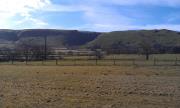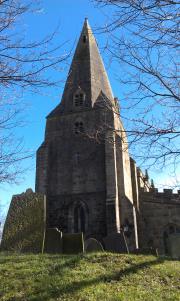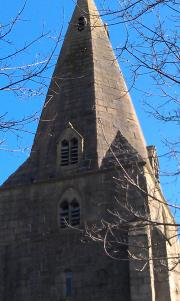 Points to note
These walks are listed as a record of walks that we have done. If you wish to follow them then you do so at your own risk.
Distances given are those recorded on our GPS as Track Distance.
Actual distance walked may be slightly longer, due to the way that the two distances are calculated. This article explains why.
Times given may or may not include breaks.
You'd expect on a circular walk that the Ascent and Descent values would be the same, right?
Well, yes, but sometimes I didn't stop the track at the exact same place I started it, and also sometimes it takes a while to get a strong enough 3D fix for a reasonably accurate altitude setting.
Any photos shown will be of the ground covered by the walk, but may cover more than one visit.