A walk from Mondall Head over the hill to Ashford In The Water, retuning via the Wye valley and Monsall Dale.
We parked in the public P&D car park at the rear of the Monsall Head Hotel.
Passing to the front of the hotel, overlooking Monsall Dale we headed west along the top of the hill side before turning south and following the path between fields towards Ashford In The Water.
After a left and right dog leg turn we picked up Pennyunk Lane, an old field access track and followed that for a while before cutting across a field and entering Ashford through some allotments.
A quick visit to the loo at the playing fields, and then a lunch stop next to the footbridge over the Wye by the old sheep washing station. Sheep used to have to take a dip in the river here, as clean sheep got a better price at market.
After our break we crossed over the river and walked along the A6 before turning up the lane towards Kirk Dale before turning off to follow the footpat alongside the western bank of the river Wye.
This took us through Lesser and Great Shacklow Woods, before dropping back down to the car park where the A6 cuts between the ends of Deep and Monsall Dales.
We crossed the A6 and entered Monsall Dale following it round the big curve below Fin Cop and Fin Wood, before crossing the Wye again on a footbridge below the big weir and then followed the foot path back up the valley side to the hotel and car park at Monsall Head.
Date Walked: 26Feb14
Distance: 6.1 miles
Time: 2h44m
Ascent: 912'
Descent: 939'
Hover over photo for description, if available, or click for full size version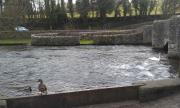 Points to note
These walks are listed as a record of walks that we have done. If you wish to follow them then you do so at your own risk.
Distances given are those recorded on our GPS as Track Distance.
Actual distance walked may be slightly longer, due to the way that the two distances are calculated. This article explains why.
Times given may or may not include breaks.
You'd expect on a circular walk that the Ascent and Descent values would be the same, right?
Well, yes, but sometimes I didn't stop the track at the exact same place I started it, and also sometimes it takes a while to get a strong enough 3D fix for a reasonably accurate altitude setting.
Any photos shown will be of the ground covered by the walk, but may cover more than one visit.