A circular walk from Hope up onto, over and around Win Hill in the Spring sun.
Two years ago we walked up Lose Hill, now for it's neighbour Win Hill.
As before, we parked in the public P&D car park in Hope, before walking north along the Edale road before hooking a right to pass under the Sheffield to Manchester rail line, and then onto the lane up to Twitchill Farm.
The contours showing on the map don't do that hill justice - it's steep and long! - but we eventually passed through the farm which is now set up with holiday lets, complete with indoor swimming pool, and a view back across the valley to die for.
The path out the back of the farm was even steeper than the lane to it, so when we got to the bridle way we turned left to follow it along Hope Brink rather than continue up to the top of the Win Hill ridge.
A good decision, as it turned out, as not only was it easier on our aching legs and lungs, but the views into Edale, and across the Hope Cross saddle towards the Snake Pass, and beyond, made it all worth while.
It also took us out of the bitter cold easterly wind that had been cooling us up until that point, but when we turned the corner and headed back to the south east and past Thornhill Brink we had the benefit of that wind again!
We continued to walk, turning easterly with the sun in our faces making up for the cold wind until we made the summit of Win Hill, which is actually quite unusual as it has two summits marked on the map - the trig point of Win Hill (463m) and the rocky crag of Winhill Pike (462m) just 20m away.
It was too cold to linger, so we dropped down off the eastern flank of the hill, and finding a nice sunny spot overlooking Yorkshire Bridge and Baslow stopped for lunch.
After that, instead of dropping down to the car parks of Yorkshire Bridge we turned south instead and followed a pleasant grassy track across Thornhill Carrs, which got a little muddy near where we turned towards the south west above Thornhill village, but nothing to worry about.
We then entered a series of long narrow fields that we traversed at a diagonal, crossing the small lane between Aston and Thornhill, and then across more fields before passing under the rail line once more and returning to the Hope car park along the main road.
Date Walked: 14Mar16
Distance: 6.5 miles
Time: 3h14m
Ascent: 1646'
Descent: 1658'
Hover over photo for description, if available, or click for full size version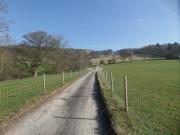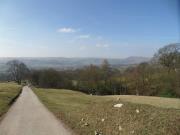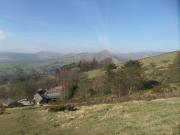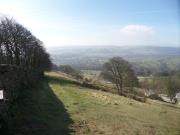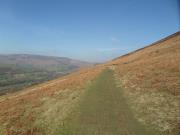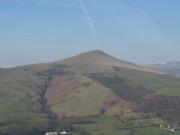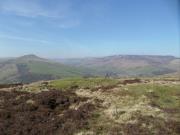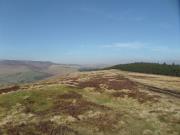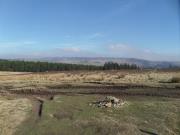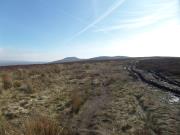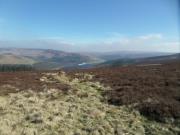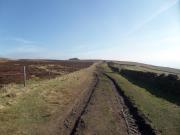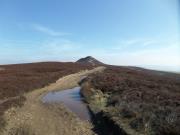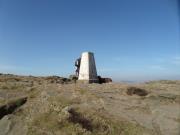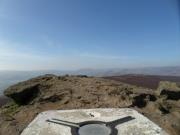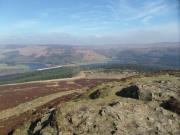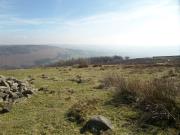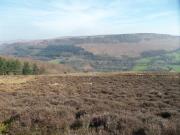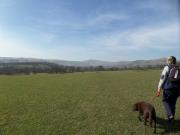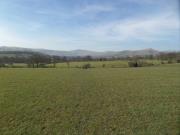 Points to note
These walks are listed as a record of walks that we have done. If you wish to follow them then you do so at your own risk.
Distances given are those recorded on our GPS as Track Distance.
Actual distance walked may be slightly longer, due to the way that the two distances are calculated. This article explains why.
Times given may or may not include breaks.
You'd expect on a circular walk that the Ascent and Descent values would be the same, right?
Well, yes, but sometimes I didn't stop the track at the exact same place I started it, and also sometimes it takes a while to get a strong enough 3D fix for a reasonably accurate altitude setting.
Any photos shown will be of the ground covered by the walk, but may cover more than one visit.