A long trek home along Stanage Edge.
Start at Moscar Edge on the Snake Pass road, just above the start of the Strines Road. Hop over the stile onto the moor and follow the path up hill.
Once you reach the crest at Stanage End and the old quarry you have the choice of the top path, or the path below the edge, which is what I've always opted for, mostloy as I've only done this one in wintery conditions and it's more sheltered on the lower path.
Follow the underside of the Edge alongside Moscar Moor and round the bend at Crow Chin, and admire the many, many mill stones left scattered around, in various states of preparation.
Pass under High Neb and join the Long Causeway, an ancient pack horse trail, and turn left up hill towards Sheffield.
As the road flattens out bear right and walk along the top of the crag along the Sheffield Country Walk feeling every bit of the cold wind blowing down from the Arctic across White Path Moss.
After climbing up over Cowper Stone drop down and cross over Upper Burbage Bridge and then head down the Burbage Valley under Burbage Rocks.
Keep your eye out for bullet holes in the rocks, from target practise in WW2.
As you pass the bottom edge of the plantation on your right, in line with the fort site at Carl Wark beyond it, turn left and go up hill and follow the pass up and over onto Houndkirk Road. NB, the footpath on the ground, and that shown on the map do not coincide here!
Once on Houndkirk Road, an old byway, turn left and follow it to it's end near Ringlinglow, and pass over the stile and walk down Limb Valley and through Whirlow Brook Park, where there are a number of ways home.
Date Walked: 10Mar13
Distance: 11 miles
Time: 3h58m
Ascent: 1348'
Descent: 2159'
Hover over photo for description, if available, or click for full size version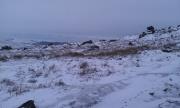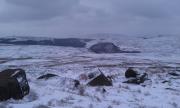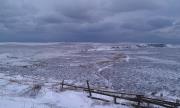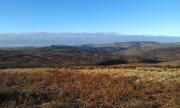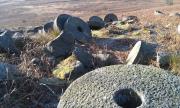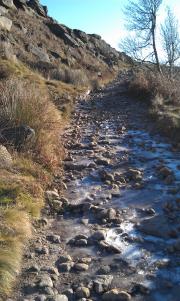 Points to note
These walks are listed as a record of walks that we have done. If you wish to follow them then you do so at your own risk.
Distances given are those recorded on our GPS as Track Distance.
Actual distance walked may be slightly longer, due to the way that the two distances are calculated. This article explains why.
Times given may or may not include breaks.
You'd expect on a circular walk that the Ascent and Descent values would be the same, right?
Well, yes, but sometimes I didn't stop the track at the exact same place I started it, and also sometimes it takes a while to get a strong enough 3D fix for a reasonably accurate altitude setting.
Any photos shown will be of the ground covered by the walk, but may cover more than one visit.