Bolehill Quarry was used, mostly, to supply stone for the Derwent Reservoirs, not too far away.
We would normally park at Grindleford Station, whichis actually in Upper Padley, not Grindleford, but this particular day we couldn't due to tree felling work on the access road, so parked instead at the entrance to an old quarry a little further up the hill.
On entering the Gorge we found ourself on an old tramway which we followed downhill until we could cross the Burbage Brook, and then wound our way uphill and into the old Bolehill Quarry.
On this particular walk we kept to the western perimeter of the quarry, until we joined up with the main trackway into it from the Hathersage Road.
As well as stone for the Dams, stone was also quarried here for mill stones, and there are still a great many of these lying around this main track.
Turning away from the road, we followed the track fora little while before turning left and following a small path up and onto the top of the quarry, near Surprise View.
We then headed southwards across the western edge of Lawrence Field before re-entering the woods, and turning left to head towards the top of Padley Gorge, where we re-crossed the Brook and headed back down the gorge and back to the car.
'
Date Walked: 08Mar13
Distance: 3 miles
Time: 1h22m
Ascent: 563'
Descent: 576'
Hover over photo for description, if available, or click for full size version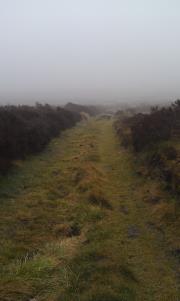 Points to note
These walks are listed as a record of walks that we have done. If you wish to follow them then you do so at your own risk.
Distances given are those recorded on our GPS as Track Distance.
Actual distance walked may be slightly longer, due to the way that the two distances are calculated. This article explains why.
Times given may or may not include breaks.
You'd expect on a circular walk that the Ascent and Descent values would be the same, right?
Well, yes, but sometimes I didn't stop the track at the exact same place I started it, and also sometimes it takes a while to get a strong enough 3D fix for a reasonably accurate altitude setting.
Any photos shown will be of the ground covered by the walk, but may cover more than one visit.